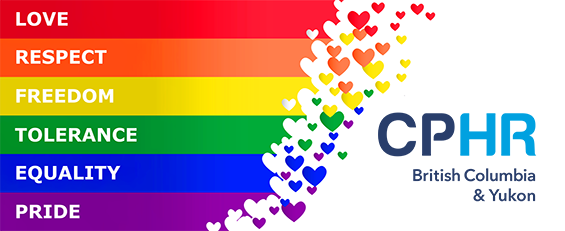 CPHR BC & Yukon is looking to celebrate the contributions of the LGTBQIA2S+ community and allies who have helped make today's workplaces more safe, inclusive and diverse. If you know someone who has played a role in improving workplaces for LGBTQIA2S+ community – either LGTBQIA2S+ or straight – we would like to share their contributions at PeopleTalk Online as part of our celebration of Pride Week, July 27-August 2, 2020.
Contributions can be defined as:
Someone who has helped with policy changes
Someone who has made their work environment safer and more inclusive to the LGTBQIA2S+ community
Someone who has fought for inclusiveness and fairness in the workplace
An awesome member of your HR team who is also a member of the LGTBQIA2S+ community
Or someone who you feel should be highlighted
To nominate someone, simply fill out the form below and we will be in touch to get a photo to accompany the article. It's that simple.
*Please be mindful that not everyone likes the spotlight and discuss your nomination with the person before submitting. Article will be published on July 27th. Deadline for submissions is July 25th.