NAIT, Mount Royal, UBC and Camosun Students All Shine at HRC West Competition
On March 1 & 2, 2019, the next generation of HR leadership from across Western Canada converged on the Thompson Rivers University School of Business & Economics (TRU) campus for the 6th Annual HRC West Competition.
As a partner initiative driven by CPHR BC & Yukon and CPHR Alberta, the two-day case competition marked the second trip across the Rockies for the HRC West Competition. With eight teams from B.C., seven from Alberta and one from Manitoba, the 2019 competition is very competitive with students applying their classroom knowledge to a true-to-life HR business case.
The HR business case was based on a real company's HR issue (names were changed to disguise the company's identity) of how to re-structure their benefits and vacations plan.
Top honours of the 2019 HRC West went to Northern Alberta Institute Technology (NAIT) "Simple Solutions Consulting" comprised of Aleksandra Jaruga, Shalean Wussow, Riwa Kamaleddine and Alyson Howey, with second place being awarded to Mount Royal University "Dynamic Consulting," third to University of British Columbia "Phantom Stock Option," and fourth to Camosun College "Tides Unleashed" team.
"CPHRBC and Yukon put on a great event in Kamloops. The competition is growing and it is an important opportunity for HR students in Western Canada. The quality of the teams was outstanding and we were very impressed with the analyses and presentations of the finalists. I am so proud of our team and know that they will have amazing careers and they represented NAIT so well!" said the winning team's coach, Laurie Pisesky, Chair, Human Resources Management Program, JR Shaw School of Business, NAIT
Called upon to step into the shoes of an HR consultancy, each team was presented with the scenario, crafted by a professional case writer, and given three hours to prepare their presentation. In turn, a total of 15 HR professionals from the two associations volunteered their expertise to serve as judges a.k.a. would-be-clients, with a final round of four presentations judged by a three-professional panel in TRU's Grand Hall in their Campus Activity Centre to a room of over 150 peers and mentors.
"The calibre of talent being attracted to and developed by HR programs in post-secondary institutions across Canada is testament to the leadership role HR plays in organizations. Every student in the HRC West Competition demonstrated thinking along those lines of strategic impact. That is the HR they know today and that will serve a lot of businesses well tomorrow," said Marni Johnson, CPHR CPHR BC & Yukon's Vice Chair.
Final Results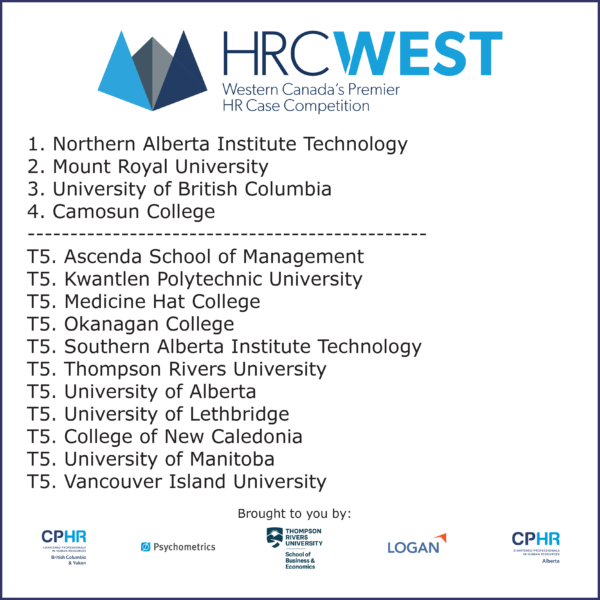 "Events like HRC West are critical to the development and celebration of the human resources profession. We relish giving students the opportunity to experience a real-world business challenge.," said Kelly Aslanowicz, Director, Business Development, CPHR BC &Yukon.
Planning for the 2020 HRC West Competition is already underway, with a return across the Rockies to be hosted in Alberta.
Thank you to the event partners/sponsors, CPHR Alberta, Thompson Rivers University School of Business and Economics, Psychometrics and LoganHR.
Photos
Subscribe