HR LeadersTalk: Barbara Meens Thistle, CPHR Champions ROI of Lifelong Learning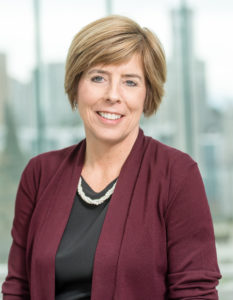 Named CPHR BC & Yukon's HR Professional of the Year in 2016, Barbara Meens Thistle, CPHR served as VP of HR and corporate services for ICBC for a number of years before moving to UBC as VP of HR in 2018. At UBC there are about 16,000 faculty and staff, about 22,000 counting student employees. She has a central HR team of 70 including labour relations, faculty relations, total rewards, well-being, organizational development, professional and leadership development, employee experience surveys, pension, benefits, housing and relocation assistance for faculty and staff, as well as shared accountability for sexual violence and prevention response and investigations (shared with the VP of students).
Meens-Thistle also shares responsibility for equity, diversity and inclusion, and is one of the executive sponsors for integrated renewal program which is a transition to work day system for HR, finance and students. Another 70 practitioners in the HR network which she has indirect responsibility for, include senior HR professionals in the faculties that report into the Faculty senior leadership team and/or have responsibility for faculty and staff recruiting, performance management, HR delivery programs etc.
Why did you choose HR or how did it choose you?
My dad was in HR his whole career, so early in life I learned a lot about his work and the nature of HR. I started in HR when I first moved to Vancouver in 1991 as a temporary secretary working for the VP of HR at VanCity and I went from there.
What was the breakout project or thing you did to really accelerate your career?
In 1995, I joined the HR team at West Coast Energy, now Spectre Energy, as it was restructuring after some acquisitions across Canada. I was asked to be on the restructuring project in HR, which gave me a chance to work with all the executive and senior leaders on designing the go-forward organizational model, coordinating the assessment and selection process for teams going forward and then coordinating the implementation activities with staffing the new organization. It was a tremendous opportunity to learn about the business, learn about organizational design and gain exposure to executives.
What advice do you wish someone had given you earlier in your career?
I have been fortunate in my career to have gotten lots of advice, coaching and mentoring from exceptional senior leaders that cared about my development, saw my potential and had the courage to be open and honest with me. I progressed to senior leadership roles quickly so perhaps some advice earlier around leaders being friendly versus friends with their teams might have helpful as I had some tough learnings in that regard.
What do you think is the greatest emerging opportunity/challenge for HR professionals?
The greatest emerging opportunity/challenge for HR professionals is the transformation of the workplace with digitization, AI, and the modernization of our processes and practices in HR services. If we lead the way in our technologies it will open up the capacity of teams that were focused on transactional work to transition to business partnerships and more strategic work. It has been coming for a while and while many HR teams have transformed themselves, better systems and tools are coming to expedite that transition.
What advice do you have about career development?
I feel like a broken record on this. I see lots of young professionals who need to master the skills required for an HR professional, but who also need to balance this with having enough curiosity to understand the roles and work of the units for which they are providing support. This is a surprising disconnect that I run into. I urge people to take the time to understand what colleagues and clients are doing what are the outcomes they are accountable for. Only then can we deliver our advice and services considering what they are trying to achieve. Also, our advice can be more fulsome and we make stronger leaders and employees when we really understand what the client groups are doing. So take the extra time to understand what the business is doing, why, and what the goal or objective is.
Also, find a mentor at all stages of your career. Early in our career, we looking for sponsors, who typically evolve into mentors, but many professionals I meet at some point stopped having a mentor. You may outgrow that particular mentor, but the importance of lifelong mentorship is something I cannot stress enough. No matter how experienced you are, you can benefit from a mentor. At no point in time should you think to yourself, "I no longer need a mentor." Always be looking for advice and guidance relevant to you where you are at this point in your career.
If you weren't in HR what career would you be pursuing?
The answer to that question has varied over the year as I mature in age. I have always been interested in psychology so perhaps I would pursue that field. I have a strong business bent so perhaps an operations role like a COO. At the other end of the spectrum I would likely own a gardening shop as I am an avid gardener.
Subscribe